I was born female and could not join the local Boy Scouts and the activities of the Girl Scouts didn't particularly interest me. I grew up not able to learn a lot of the things that boys learn -- I didn't know how to change a tire on my car until another transguy showed me how after an unfortunate tire-slashing incident. I never learned how to build fires. I never really had a boyhood, and now I'm trying to create a space for other people to maybe pick up skills that are "forbidden" to them because of their own gender and sex. Or maybe I'm just creating a space where something/someone can be both "rural" and "queer" or "radical" -- something that doesn't seem to happen that often.

I'm trying to figure out what kind of things should be in a queer scout handbook -- I mean, should it be wilderness survival? Urban survival? Survival as a queer person in a heterosexist world? Should it mimic -- and sort of mock -- the Scout Handbook, or should it throw all the rules away and just go for something more subversive? Should it include recipes for wheatpaste?! ;)

What do you think? What would YOU want to see in a Queer Scout handbook? Do you want to contribute?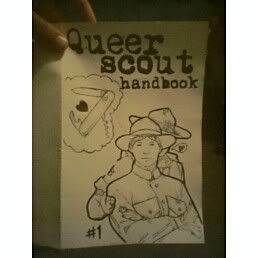 After a day of thinking, I have come up with a few specific topics for this Zine, so you can see where I'm heading with it. Feel free to use these ideas to come up with some of your own!

-- Confronting metronormativity and the re-birth of rural queer culture (Where have all the cowboys gone?)
-- Creative *cough cough* knot tying skills!
-- Alternative communities in a Bar-centered queer world: how to survive as a straight-edge queer (how does this fit in? it will explore the creation of "queer scouts" as an attempt, in itself, to create community)
-- Wilderness skills: food, water, shelter, beginner's plant and animal identification!
-- Queer campfire songs ((EVERYBODY CAN HELP ME WRITE THESE! Yay!))

And as if I needed to add more to this post, there will probably be a Queer Scout Cookie recipe section for S&M&Ms, Transgender Snaps, Fagalongs, and Fat-positive mints.

Coss-postedddddd.